CROWDED AS EVER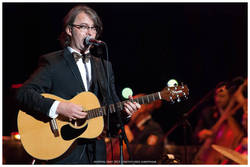 It was hard to avoid Festival Lent this year. And if you can't beat them, join them. So the crowds of playful visitors took over all venues and stayed there until the sun came up.
After their beauty sleep, the people of Lent began their journey and followed street artists around Maribor. In the evening, more people came and enjoyed the music of Yugo punk rock band Pankrti. The crowd filled the Večer stage venue in their search for nostalgia or good music. The so-called "first punk group behind the Iron Curtain" provoked the audience, even though they shared the stage with rock veterans Res Nullius.
The enormous crowd and rough voices could be heard all the way to the Main stage that also provided the audience with nostalgia and laughter by remembering the film "Montevideo, Bog te video". Music for the film was written and recorded by Magnifico and the Srpski vojni orkestar Stanislav Binički that began their European tour at Lent.
Jazzlent also couldn't avoid the large number of visitors. How could it? Mark Ribot, one of the most unique guitarists and the inventor of dirty sound, decided to start his tour with Los Cubanos Postizos. "I hope you're ready. We will play as long as we can," joked Ribot at rehearsal and warned the audience and the performers. Later, the venue was packed and people were even waiting outside. "I make up for my bad singing by playing," said Ribot, who hasn't been to Slovenia since the eighties. He says he has many friends here and a rich repertoire of music fans. "Pessimism of intelligence and spirit of optimism," Ribot described the current music situation and also gave advice to young artists.
Those who failed to see the legendary Mark Ribot could try their luck at Spiegel tent that was also crammed. The electrifying atmosphere was created by Ana Bezjak, who took the audience on a music journey. The initial spring Brazilian rhythms were replaced by classic jazz songs that spread ideas of love, life and nature across the venue. "It was an honour to be heard and to hear," said Ana and thanked the substitute drummer, who saved the night.
And so the "after-programme partying" began. Full venues were filled with a mixture of foreign languages, happy faces and vivid rhythms, which created an opportunity to make new friends and meet old acquaintances.