APPLICATIONS FOR CLASSICAL MUSIC SALON 2013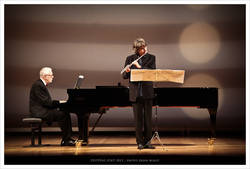 Young chamber ensembles and musicians are invited to apply for Classical Music Salon that will take place from June 21st to July 6th 2013 at Festival Lent 2013 in Union Hall and Maribor synagogue.
The application should include:
• proposed program without a break and no longer than 50 minutes (preferably chamber music, suitable for the summer festival atmosphere and by composers from all over the world)
• name of the ensemble
• names of all members
• brief biographies of members
• few high-quality photos in electronic format
• few audio tapes electronic format (mp3 or CD)
• contact information (name, address and telephone number)
Applicant should list their desired performance date and venue, which will be considered as much as possible. The application should also include technical details in connection with the concert and information necessary for forming a contract.
Candidates should send their application by November 30th 2012 to:
NARODNI DOM MARIBOR
ULICA KNEZA KOCLJA 9,
2000 MARIBOR
SLOVENIA
or e-mail them to: tina.vihar(at)nd-mb.si with the subject: Salon.
Priority will be given to candidates that sent their fulfilled application on time as well as young promising Slovene musicians.
The chosen candidates will be informed by January 31st 2013. For more information about the tender call 00386 2/229-4014 or send an email to tina.vihar@remove-this.nd-mb.si.